BUS-DRO-100
-
Professional Drone Pilot: Ground School and FAA Part 107 Test Prep
392188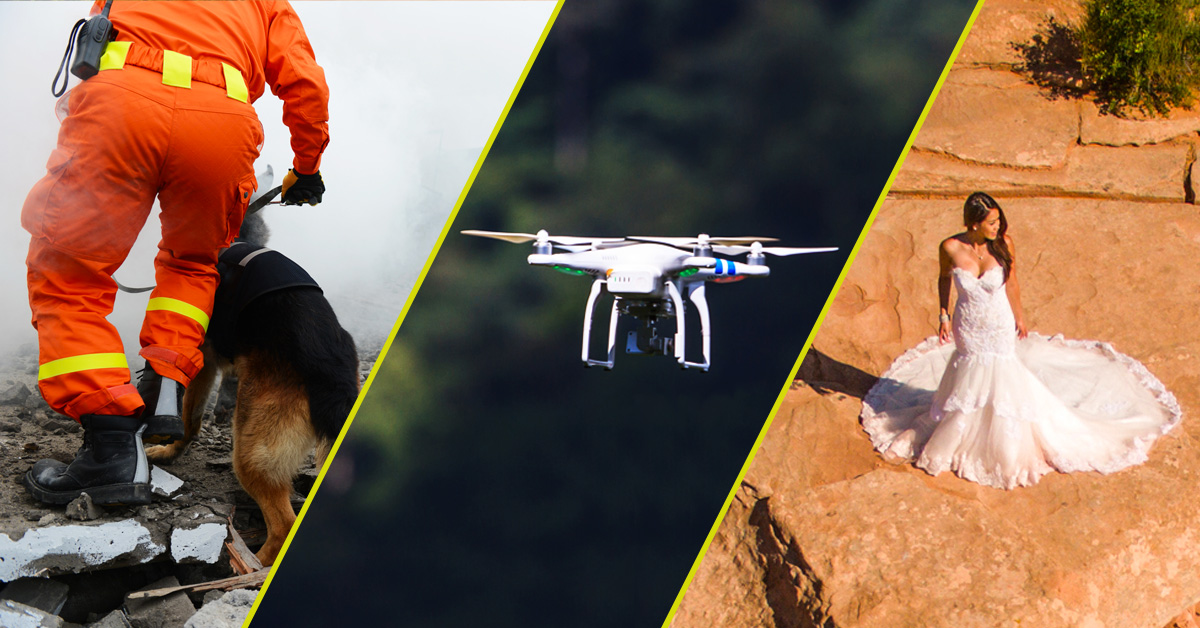 Course Description
Legally flying a drone for commercial use requires an FAA remote pilot certificate.
Are you certified?
NOW OFFERED IN LEWES!
"POWER UP YOUR CAREER" ONLINE SEMINAR SERIES—free with course registration
ABOUT 400,000 JOBS ARE BEING CREATED BY THE DRONE INDUSTRY IN JUST A FEW YEARS
Personal hobbyists, police, fire and rescue personnel, engineers, real estate agents, photographers, roofers and other professionals are using unmanned aerial systems (UAS) for tasks ranging from racing and photography to surveillance and damage assessment. During this intensive two-day class, highly qualified UAS experts provide industry-leading classroom training and prepare drone pilots for the Part 107 Drone License exam. Topics include regulations, airspace, weather, loading and performance, and operations.
To obtain a remote pilot certificate, a drone pilot must pass the FAA's airman knowledge test (conducted at an FAA-certified testing center). The Federal Aviation Administration needs to make sure that all commercial drone pilots have the ability to act responsibly, coordinate with Air Traffic Control in case of an emergencies, read aeronautical maps, and abide by all general aviation regulations and specific regulations pertaining to UAS. (Note: This is a test prep program. The examination is not administered as part of the program.)
Course Outline
Day One
Course introduction and overview
14 CFR Part 107 - Regulations
Airspace Classification
Operational Requirements
Flight Restrictions
Airport Operations
Day Two
Loading and Performance
Radio Communication Procedures
Emergency Procedures
Crew Resource Management
Physiological Factors affecting Pilot Performance
Aeronautical Decision Making
Aviation Weather
Learner Outcomes
By the end of the course, students will be able to understand and apply the following:
14 CFR Part 107 Regulation
National Airspace System
Airspace and Planning
Weather Theory
Aviation Weather Services
Weight and Balance Loading and Performance
Flight Operations
Safety Risk Management
Aeromedical Factors
Notes
Professional Drone Pilot Training programs are conducted by FAA-licensed unmanned aircraft pilots from Adam Ringle Consulting (ARC), a Delaware-based industry leader in UAS training. Training program content is provided by ARC.
Who Should Participate?
First responders (police, fire, rescue personnel)
Investigators
Insurance adjusters and real estate agents
Reporters, film makers, producers, photographers, marketers, web designers
Engineers, construction professionals, roofers
Accident scene investigators
Site and structure inspectors (tower, roofing, building, land surveyor, electrical line, oil and gas fields, agriculture)
Construction estimators and project managers
Aerial photographers
Anyone interested in starting a UAS-based business
UAS freelancers
Emergency management professionals (federal, state and municipal level)
Any other professionals or hobbyists using UAVs
Prerequisites
This program is open to any participant age 18 or older.
All of our drone pilot training courses can be conducted on-site at your place of business. In addition, we can create a customized drone training program based on your needs. For more information or to request a proposal for on-site training, please contact us via the form below.
For More Information

Enroll Now - Select a section to enroll in
Required fields are indicated by .