BUS-DRO-100
-
Professional Drone Pilot Training
392188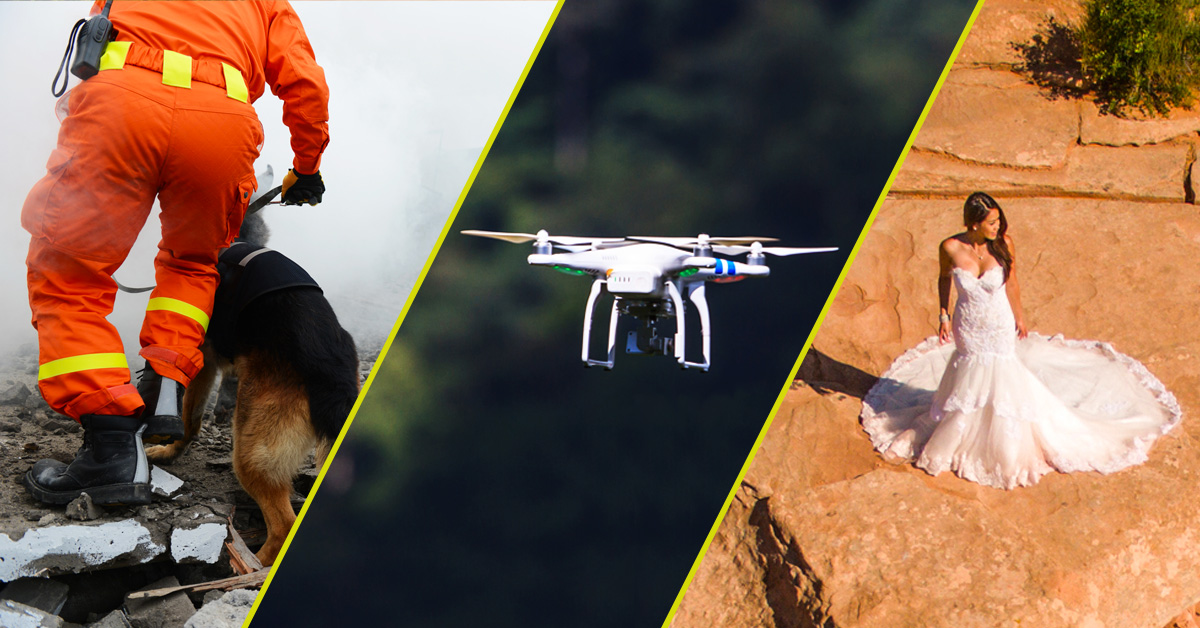 Course Description
* MARCH CLASSES ARE FULL. PLEASE ADD YOUR NAME TO OUR WAITING LIST. *
Legally flying a drone for commercial use requires an FAA remote pilot certificate.
Are you certified?
FREE "POWER UP YOUR CAREER" SEMINAR SERIES WITH COURSE REGISTRATION
Personal hobbyists, police, fire and rescue personnel, engineers, real estate agents, photographers, roofers and other professionals are using unmanned aerial vehicles (UAVs) for tasks ranging from racing and photography to surveillance and damage assessment. During this intensive two-day class, certified flight instructors provide comprehensive flight training and prepare drone pilots for the Part 107 Drone License exam.
Using DJI Phantom and Inspire drones, UD PCS' new Professional Drone Pilot Training course provides drone operators with the knowledge and skills they need to successfully--and legally--operate UAVs. This two-day, high-demand course provides one day of flight training and one day of FAA Part 107 test preparation, which helps participants learn the requirements necessary to earn remote pilot certification (also known as a drone license, part 107 exam, and remote pilot certification) under FAA Part 107.
To obtain a remote pilot certificate, a drone pilot must pass the FAA's Airman Knowledge Exam (conducted at an FAA-certified testing center). The Federal Aviation Administration needs to make sure that all commercial drone pilots have the ability to act responsibly, coordinate with Air Traffic Control in case of an emergencies, read aeronautical maps, and abide by all general aviation regulations and specific regulations pertaining to UAVs. (Note: This is a flight instruction and test prep program. The examination is not administered as part of the program.)
Course Outline
Day One - Flight Training
UAV Basic Training
The Federal Aviation Administration
Know Before You Fly
Rules for Recreational, Commercial, and Government Users
The 333 Exemption
FAA Proposed Rules for UAS (unmanned aircraft systems)
Safety
FlySmart
Planning Your Flight
Emergency Procedures
Checklists
Flight Log
Weather Considerations
Identifying Hazardous Obstacles
Insurance
Location Checklist – Where and When Can you Fly Legally
Abiding by FAA Flight Restrictions
Airspace Basics
Privacy Considerations
Equipment Considerations
Top Drones on the Market
Fixed Wing versus Multi-copter
Battery Considerations
Cameras and Gimbals
Why Drones Get a Bad Reputation
How to Avoid Pilot Disorientation
Understanding Capability of Equipment
How to Avoid FlyAways
How to Not Make It Into the News
Phantom and Inspire Training: Part I
Aircraft Components
First Flight Basics
Flight Modes and Vision Positioning
Calibration Considerations
Emergency Procedures – Fail Safe, Return to Home, and FlyAways
The Language of Lights
DJI User Settings – Simulator and Flight Recorder
Firmware Updates
Handouts – Location Checklist, Pre-Flight Checklist, Equipment Checklist, Take Off Checklist, Practice Exercises and Flight Log
Phantom and Inspire Training: Part II
DJI Go App Settings
Failsafe Settings
Return to Home Features
Gain and Expo Tuning
RC Control Settings
Master Stick Mode
Intelligent Navigation Features
Course Lock – Aircraft Fixes Forward Nose Orientation
Home Lock – Aircraft Follows Direct Path to Home Point
Point of Interest – Aircraft Circles Designated Point
Follow Me – Aircraft follows the Mobile Device
Way Points – Aircraft Flies Along Programmed Flight Path
Day Two - FAA 107 Test Prep
Covers more than 75 topics related to:
Regulations
Airspace
Flight Restrictions
Chart Study
Airport Operations
Radio Communications
Aviation Weather
Maintenance and Preflight Procedures
Loading and Performance
Hazards to Flight and Emergency Procedures
Aviation Physiology
Taking the Exam
In cases of inclement weather, class days may be reversed or classes may be rescheduled.
Notes
Who Should Participate?
First responders (police, fire, rescue personnel)
Investigators
Insurance adjusters and real estate agents
Reporters, film makers, producers, photographers, marketers, web designers
Engineers, construction professionals, roofers
Any other professionals or hobbyists using UAVs
Additional Information
As seen on ABC's Shark Tank! Professional Drone Pilot Training programs are conducted by DARTdrones, an industry leader in UAV pilot training. All DARTdrones instructors hold certificates from the Federal Aviation Administration as manned and unmanned aircraft pilots. Flight instruction is weather dependent. In cases of inclement weather, classes will be rescheduled.
This is a flight instruction and test prep program. The FAA 107 examination is not administered as part of the program.
This class will reach capacity quickly. Please enroll early.

Enroll Now - Select a section to enroll in