HTH-POP-100
-
Population Health Informatics for Healthcare Leaders
24222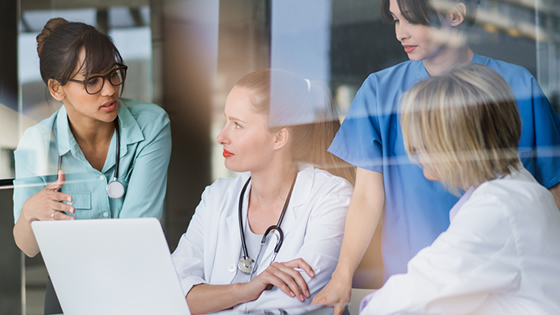 Course Description
Integrating informatics and experience to inform health care decisions
FREE "POWER UP YOUR CAREER" SEMINAR SERIES WITH COURSE REGISTRATION
Data analytics is frequently described as a "new" methodology, but most healthcare professionals have been analyzing data their entire careers. The big difference today is the volume of data available to inform healthcare business decisions. New electronic health records are becoming treasure troves of information that will enable your organization to improve patient care, manage population health and reduce operating costs.
This two-day seminar will arm you with the tools and strategies to determine what data is useful, ask the right questions of analysts who support you, interpret results to make good business decisions and effectively communicate your conclusions to varied audiences.
Learn how the different healthcare transformation activities fit together to form a cohesive population health approach that can be operationalized.
Topics include:
Healthcare informatics
Using data to make informed population health decisions
Techniques for using analytical tools
How to report and communicate results
Using informatics to improve care coordination
Who should participate?
Clinical supervisors (nursing supervisors, IT, finance and operational management from health care delivery organizations)
Public health managers and leaders
Physicians, physician assistants, CMOs (chief medical officers), CMIOs (chief medical information officers)
Healthcare professionals who need to understand the interrelationships between health informatics, data analytics and MACRA (Medicare Access and CHIP Reauthorization Act)
Course Outline
Day 1 – April 26, 2018
Understanding Informatics
Introduction to Informatics: Presenting the basics about healthcare informatics

History of informatics, informatics terminology
Key stakeholders and activities
Sources of data, data quality, identification of usable data
Application in the clinical setting

Data Infrastructure: Presenting a description of the supporting infrastructure

Data governance, data and databases, healthcare information systems
Electronic Health Records (EHR)
Health information exchange: case study presents methods of data and information exchange and accessibility
Protecting health care information: privacy, security and consent

Data Analysis: Presenting ways of using the data to make better population health decisions

Population health research methods
Understanding informatics data: case study helps the participants understand data better
Data collection and mining
Prioritization, stratification, pattern identification
Root-cause problem solving
Scatter diagrams: finding relationships between variables
Causation vs. correlation
Graphical analysis, data visualization
Reporting the information to various audiences
Day 2 – April 27, 2018
Using Informatics for Decision Making
Data insight for clinical practice: Techniques for using analytical tools

Knowledge pyramid
Informatics research methodologies
Informatics metric identification models
Models for statistical prediction, risk identification and decision support
Informing care strategies using informatics
Informing operational strategies using informatics
Case study: Applying our learning

Measures, Scorecards and Dashboards: ways to report results

Report reading
Metric reporting
Program evaluation
Cohort identification and management
Case study: Establishing measures and capturing results

Care Coordination Methods: Using informatics to improve care coordination

Evidence based practices
Patient engagement
Case and disease management
Transitional care
Team-based care
Telemedicine and telehealth
Integrated health
Connecting patients to their healthcare

Learner Outcomes
By the end of this seminar the learner will be able to:
State the definition of informatics in the context of population health.
Understand basic clinical application of informatics.
Identify the key features of data and information.
Name the structural components of the knowledge management hierarchy and describe the significance of each component.
Describe challenges of performance management.
Identify technical infrastructures types that exist in healthcare today.
Define information exchange capabilities available in typical healthcare systems.
Understand the tools necessary to transform data from electronic health records and information systems, into usable data sets for healthcare.
Understand steps in the data analysis process.
Describe the concepts "population-based" and "community focused.
Identify the implications of data analysis in healthcare organizations.
Understand the basic principles of population health data analysis.
Identify at least one risk identification model used in total cost of care arrangements.
Recognize basic data pattern from population health data analysis demonstration.
Name at least two technical enablers needed to transform healthcare into a population health system.
Define the purpose of performance improvement processes and outcomes.
Describe performance improvement steps.
Discuss performance improvement tools and how a team can promote healthcare system change.
Apply performance improvement tools to understand improvement potential.
Provide rationale for use of population health in transforming the healthcare system.
Describe the use of registries in population health activities in the healthcare operation.
Build a business case for use of population health as a care management tool.
For More Information
Enroll Now - Select a section to enroll in