HTH-TEL-100
-
Advanced Telehealth Coordinator Certificate
23678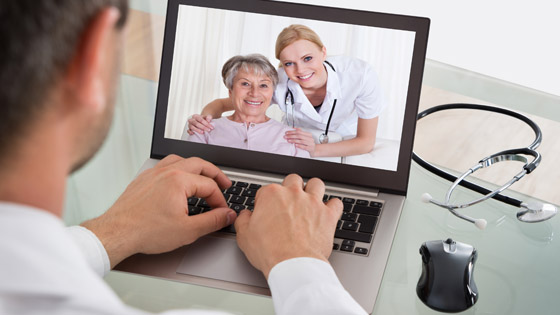 Course Description
"POWER UP YOUR CAREER" ONLINE SEMINAR SERIES—free with course registration
Leverage telehealth technologies to improve access to healthcare and manage the business aspects of telehealth
15-week, self-paced online course starts May 20
Geared toward professionals and providers from a variety of backgrounds; no telehealth experience necessary
Program approved for 45 AMA PRA Category 1 credits
Discounts, payment plan available
Telehealth initiatives hold exciting potential to address healthcare access issues in Delaware and beyond, whether from shortfalls in critical healthcare specialties, or in under-served geographic locations. Telehealth also provides innovative ways to meet the demands of an aging population, reduce inappropriate use of emergency departments, prevent hospital readmissions, bring care to the most appropriate setting and more.
UD's Advanced Telehealth Coordinator Certificate program highlights the benefits and opportunities of telehealth implementations like:
patient videoconference visits with medical practitioners
virtual mental health and counseling appointments
virtual access to specialists in rural and high-need areas
remote patient monitoring programs
personalized follow-up programs for patient treatment regimens
mHealth (mobile health), eICU (electronic intensive care unit) and more
This certificate program provides the foundations of telehealth for participants interested in utilizing telehealth for the delivery of healthcare, including technology evaluation, business and operational considerations, regulations, ethics, privacy and more.
This is a self-paced online course with some scheduled requirements and assignments.
Course Outline
The Advanced Telehealth Coordinator course begins by providing participants with the foundation needed to understand the benefits and uses of telehealth as well as the role of the telehealth coordinator. As the curriculum advances, participants dive deeper into the knowledge and skills necessary to support the use of telehealth applications within a health care organization. The course culminates in the exploration of telehealth project and program management.
This 15-week course provides a comprehensive program of instruction, exploration, discussion and practice. While examining the practical, technical and business aspects of telehealth, participants will also explore the creative aspects of utilizing technology to deliver health care in order to prepare for the continued growth of telehealth.
Course sessions include:
Introduction to Telehealth
eICU and Telehealth Resources
Funding and Reimbursement
Policies that Impact Telehealth (Parts 1 and 2)
Telemental Health and Ethics
Quality, Outcomes and Data Collection
Telehealth in the Home and Remote Patient Monitoring
Starting a Chronic Diseases Telehealth Clinic and Unique Applications
Operational Considerations (Parts 1 and 2)
More Successful Uses of Telehealth; Telehealth Program Planning
Introduction to Telehealth Program Management (Parts 1 and 2)
The Advanced Telehealth Coordinator: Tying It All Together
Learner Outcomes
Upon completion of this course, participants will be able to:
Identify available telehealth technologies and appropriate uses for them
Explain the benefits of and barriers to implementing telehealth
Understand the business and financial aspects of telehealth
Analyze key legislative, regulatory and organizational policies that impact the use of telehealth
Identify data elements to collect to support quality improvement/quality assurance
Identify the roles and responsibilities of the telehealth coordinator
Communicate telehealth concepts to organizational members as well as to health care consumers
Identify elements of a successful telehealth encounter and quality telepresence
Develop efficient clinical telehealth workflows
Identify strategies that support effective telehealth program development
Draft organizational protocols to support telehealth
Identify strategies for measuring and communicating program successes and lessons learned
Consider language, culture and disability in using telehealth technologies
Prerequisites
There are no academic prerequisites to enroll in this program.
Recommendations
Who Should Participate?
Clinicians, administrators, managers, health care IT and other professionals from a wide variety of health care disciplines including:
physicians
physician assistants
nurse practitioners
dentists
pharmacists
nurses
psychologists
counselors
social workers
physical therapists
occupational therapists
speech therapists
respiratory therapists
optometrists
dietitians/nutritionists and more

Telehealth in the news
For More Information

Enroll Now - Select a section to enroll in
Required fields are indicated by .