HTH-CTM-100
-
Clinical Trials Management Certificate
23200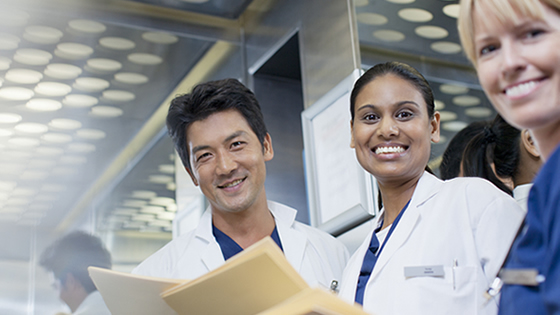 Course Description
"POWER UP YOUR CAREER" ONLINE SEMINAR SERIES—free with course registration
Prepare for diverse opportunities in the clinical research field
100% online course, complete in 14 weeks
Enter the clinical research field, advance in your job or build useful new skills
Course aligns with Association of Clinical Research Professionals (ACRP) exam content
Payment plan, discounts available
The field of clinical research is focused on developing cost-effective ways to treat disease and increase quality of life through successful development and launch of new biologics, devices, and pharmaceuticals and by incorporating the science of genomics or personalized genetic prescribing.
Opportunities in the field are many and varied, ranging from the principal role of investigator to the supportive tasks surrounding regulatory compliance, scientific writing, marketing, data management and more. Employment settings include pharmaceutical, biotechnology, medical device companies, contract research, hospitals, educational institutions and independent contractors.
The Clinical Trials Management Online Certificate is offered 100% online and provides a broad overview of key competencies necessary for a successful understanding and conduct of the new product development process in today's environment. Course topics include:
Clinical trials process, roles and responsibilities
U.S. regulatory compliance
Ethical and safety considerations
Data management and coding principles
Monitoring and oversight of clinical trials
New product introduction, branding and marketing
About the clinical research and product development field
New product development requires a broad collaboration among science and technology professionals who keep current in the medical and regulatory arena. The potential opportunities in the field of clinical trials management range from the principal role of investigator to the supportive tasks surrounding regulatory compliance, scientific writing, marketing, and retrieval of accurate and reliable data for submission to regulatory agencies.
The research team collaborates across several business units, starting with the sponsor of the investigative new product, to the clinical site that collects ongoing data from subjects receiving the product, to the sponsor or designee who monitors the quality of the data being collected. Professionals conducting clinical trials primarily come from health-care backgrounds.
Certification opportunity
The curriculum of the Clinical Trials Management Online Certificate covers core concepts consistent with the Association of Clinical Research Professionals (ACRP) certification exams, a valuable credentialing opportunity for clinical research professionals. For exam details, including eligibility requirements, visit Association of Clinical Research Professionals.
Clinical trials professionals are employed in a variety of settings:
Pharmaceutical companies
Biotechnology organizations
Medical device companies
Contract research organizations
Hospitals
Educational institutions
Independent contractors
A clinical research professional may serve as a clinical investigator, sub-investigator, clinical researcher, research nurse, administrator, coordinator, data manager, project manager, IRB coordinator, quality assurance specialist, regulatory affairs specialist, research pharmacist, consultant, or educator in clinical trials management.
Who should enroll?
Clinicians and other professionals currently involved in the clinical trials process
Professionals with a strong science or healthcare-related background wishing to expand their knowledge in the clinical trials field
Course Outline
To earn the Clinical Trials Management Certificate, all three of the following modules must be successfully completed with a grade of "C" or above.
Development: Setting Up the Environment for Success
This module provides an overview of the clinical and pre-clinical processes involved in setting up clinical trials, and the roles and responsibilities of those conducting and administering these processes. Topics include:
Ensuring that a proposed investigative site is qualified and appropriate for use in a clinical trial
Recruitment and retention of eligible study patients/participants
Compliance with U.S. regulatory bodies and ethical considerations: safety, efficacy, privacy
Comparison of human clinical testing models with animal testing models
Setting up for collection and delivery of unbiased, concise, and comprehensive scientific data
Code of conduct governing sponsors, sites, investigative personnel, and other affiliated parties
Case studies of ethical and safety violations in clinical trials, and their effect on new product development
Implementation: Carrying Through the Plan
This module focuses on the processes involved in conducting safe, thorough, and reliable clinical trials. Topics include:
Monitoring visits—purpose and importance of monitoring visits from the site and sponsor perspectives; roles and responsibilities of both site and sponsor in a successful outcome; essential points of a comprehensive site visit from both a regulatory and data management perspective; and what makes a highly proficient monitor
Obtaining valid and reliable data—components of an appropriate database, validation of associated systems, coding principles, and the sequence of events leading to a database lock
Emerging markets—how they contribute to the challenges of new product development, unique country/region mandates, effect of newly emerging markets in relation to the future of scientific experimentation
Reporting of safety concerns—how to appropriately report them to regulatory agencies, regulatory timelines for reporting, case studies
Integration: Creating the Package
This module focuses on the steps necessary for completion and evaluation of clinical trials processes. Topics include:
Ensuring that an investigative site has met all contractual and regulatory obligations
Follow-up checklist: disposition of outstanding product supplies, report data, etc.
Evaluation by the sponsor or agency regarding site and sponsor performance
Audits surrounding an NDA (New Drug Application) filing, random and for-cause
Introducing a product to health-care practitioners and consumers: market research, advertising principles, governmental rules and regulations, product branding
Effectively reporting the outcome of clinical trials, including unbiased reporting to potential consumers regarding the results, limitations, and availability of the new product
Prerequisites
It is expected that students entering the certificate will have a strong science and/or health-care related background. In addition, two years of college level coursework is recommended. The certificate provides the fundamental knowledge to enter the field of clinical research.
Technology requirements
REQUIRED: laptop or desktop computer
Required: a PC or Mac, laptop or desktop computer must be used to complete course activities like tests, quizzes, homework, or chats
Required: high-speed Internet access
Required: if not already installed on your computer, you may need to install these free plugins: Flash | Adobe Reader
OPTIONAL: mobile device
Optional: most course video content can be viewed on a mobile device like a tablet, iPad or smart phone
Mobile devices cannot be used to complete required course components like homework, tests, quizzes, chats
Click here for details about mobile device compatibility
Enroll Now - Select a section to enroll in
Required fields are indicated by .