EAO-SAT-100
-
SAT Blitz Test Prep
23123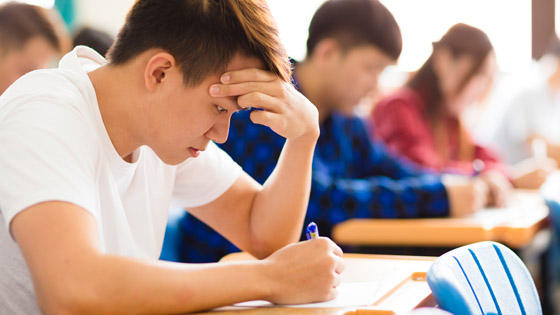 Course Description
The UD Professional and Continuing Studies SAT course is an intensive test prep program that provides students with the tools they need to prepare for and ace the SAT exam. The condensed format is a convenient way for students to develop essential test-taking skills and tools. Students are provided with an in-depth review of the exam materials, insight into strategies for succeeding on standardized tests, and a comprehensive study plan.
Students generally take the SAT during their junior year of high school.
The SAT workshops include:
Weekend program featuring 16 hours of expert instruction, timed for upcoming SAT administration dates
Course textbook: The Official SAT Study Guide
Customized course workbook
Easy-to-follow study plan
Class can be retaken within one year at a 50 percent discount
Course Outline
The SAT Test Prep Course covers:
Test taking strategies
Introduction to the SAT
Question Formats
Time Management
Process of Elimination
Intelligent Guessing
Quantitative subjects
Comparisons
Picking numbers
Equations
Exponents
Fractions, Percentages and Averages
Rates, Ratios, and Proportions
Lines, Angles, Triangles; Circles; Polygons; Combined figures; Coordinate Geometry; Volume and Surface Area
New Symbols
Word Problems
Reading and writing subjects
Punctuation and Grammar
Pronouns
Clauses and Phrases
Sentence Completion
Critical Reading
Reading Comprehension
Learner Outcomes
These intensive courses cover skills needed for success on the SAT
Taught by an SAT test prep expert in partnership with Educational Testing Consultants (ETC)
Online review tools to help students perform at their peak
All programs target the new SAT format
This course is ideal for
Rising juniors that may be taking the test for the first time
Any high school students who have already taken the exam but wish to improve their score
Who should take this course?
The SAT Test Prep Course is ideal for students that need an intensive preparation program. This intensive course requires students to continue to practice their skills in the weeks and months leading up to the exam. Students are expected to actively participate in class and in the online review sessions.
Notes
Summer Institute program includes online review tools
Four online review sessions (included in the SAT Summer Institute) are held in the weeks leading up to the SAT exam dates. Online office hours provide a convenient way for students to address specific questions or concerns that they may have. It's easy to access the online sessions, and no additional software required. The interactive one-hour online review sessions allow students to participate and ask questions of our expert test prep instructors. The live online review sessions are also recorded – students can still benefit even if their schedule doesn't allow live participation. Review sessions will follow the schedule of the test prep course.
Financial aid available
Need-based financial aid is available for students enrolling in the ACT, SAT, GRE, LSAT or GMAT test prep programs. Applications are accepted on a rolling basis, with preference given to submissions received three weeks prior to the applicable course start date. Click here for the online application.
Withdrawals
For courses that are $500 or less, a refund minus a $25 processing fee will be given if the request is received in writing within two days prior to the start date.
Prerequisites
System Requirements
The live-online review sessions are offered online using Adobe Connect software. All you need is a high speed internet connection, speakers, and an Adobe Flash Player, which can be downloaded for free. Note: The Adobe Connect plug-in, microphone, and camera are not required or used in the delivery of the online review sessions.
Enroll Now - Select a section to enroll in